RMI's Utility Transition HubTM helps key stakeholders—regulators, investors, policymakers, advocates, and utilities—chart a path to an equitable and affordable energy transition
The Hub empowers users to surface the
less visible forces below the water line that drive future utility emissions.
Scroll Down
Measurement tools today track important information—emissions as well as plant retirements and additions—but are limited to measuring outcomes.
While tracking outcomes is essential, it is insufficient for assessing whether utilities are on track to stay within their carbon budgets.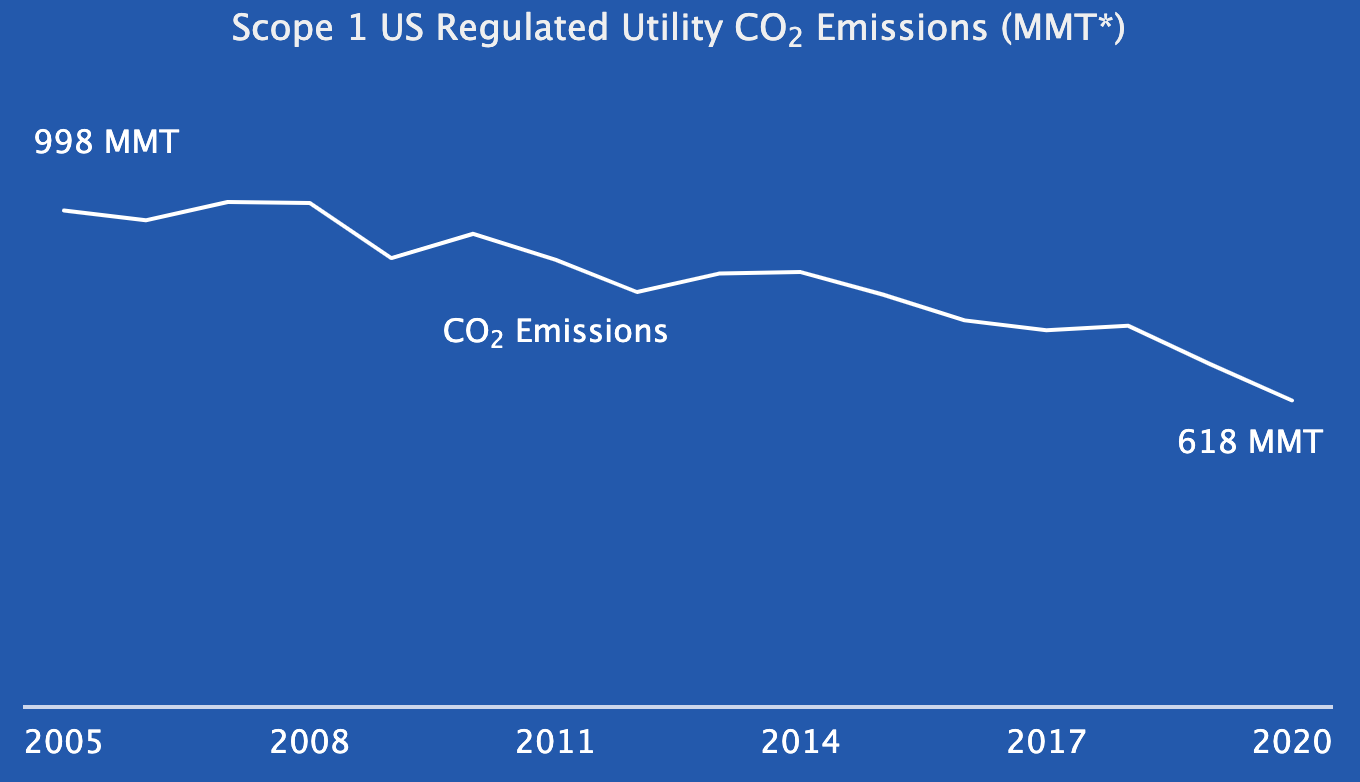 The Utility Transition HubTM seeks to surface the less visible forces—such as investment trends—that drive future emissions outcomes to enable shared action aligned with an equitable and affordable energy transition.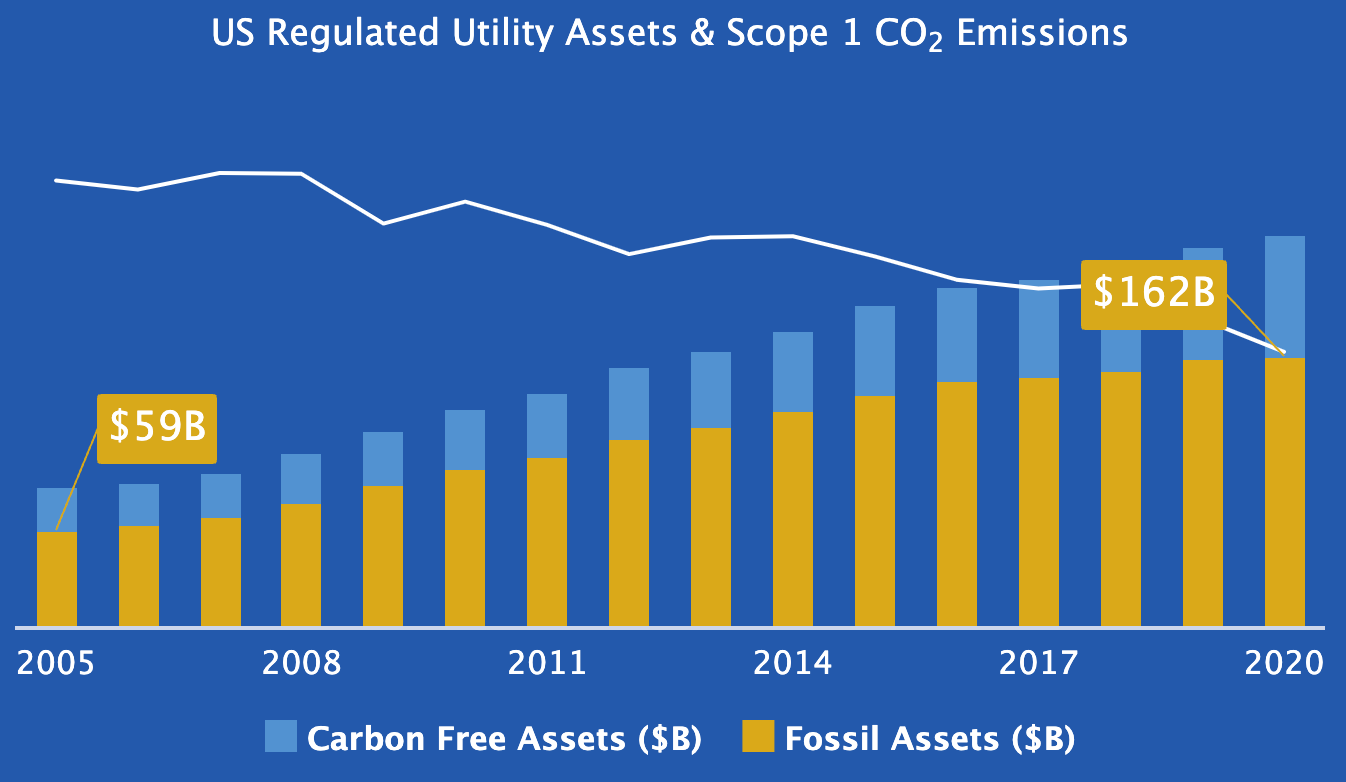 The electricity sector accounts for about 30% of US carbon emissions and is crucial to decarbonizing another 65% by electrifying our transportation, buildings, and industry sectors.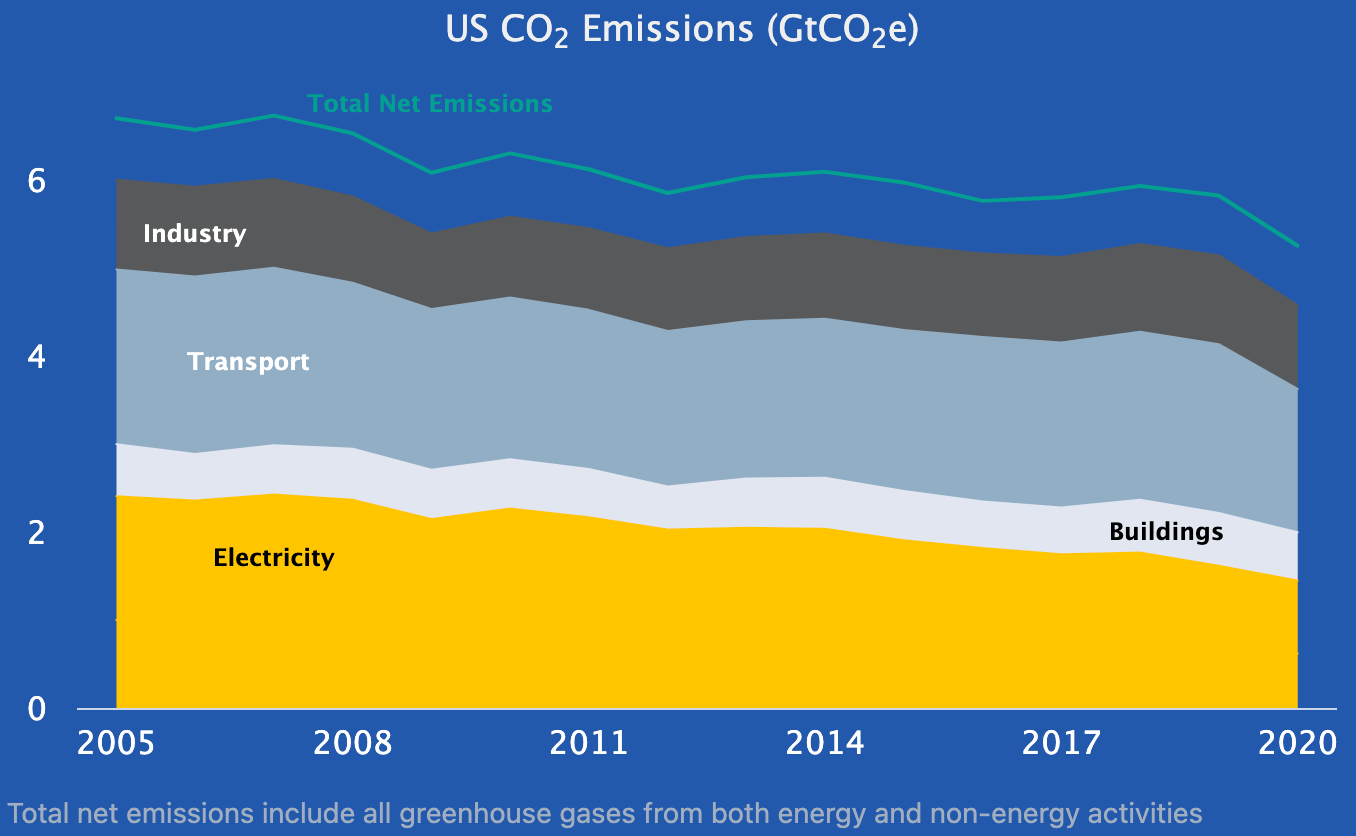 The Utility Transition HubTM primarily focuses on regulated utilities*—utilties responsible for about 40% of Scope 1 power sector emissions.
These utilities have made meaningful progress, reducing emissions from the assets they own by 40% from 2005 to 2020.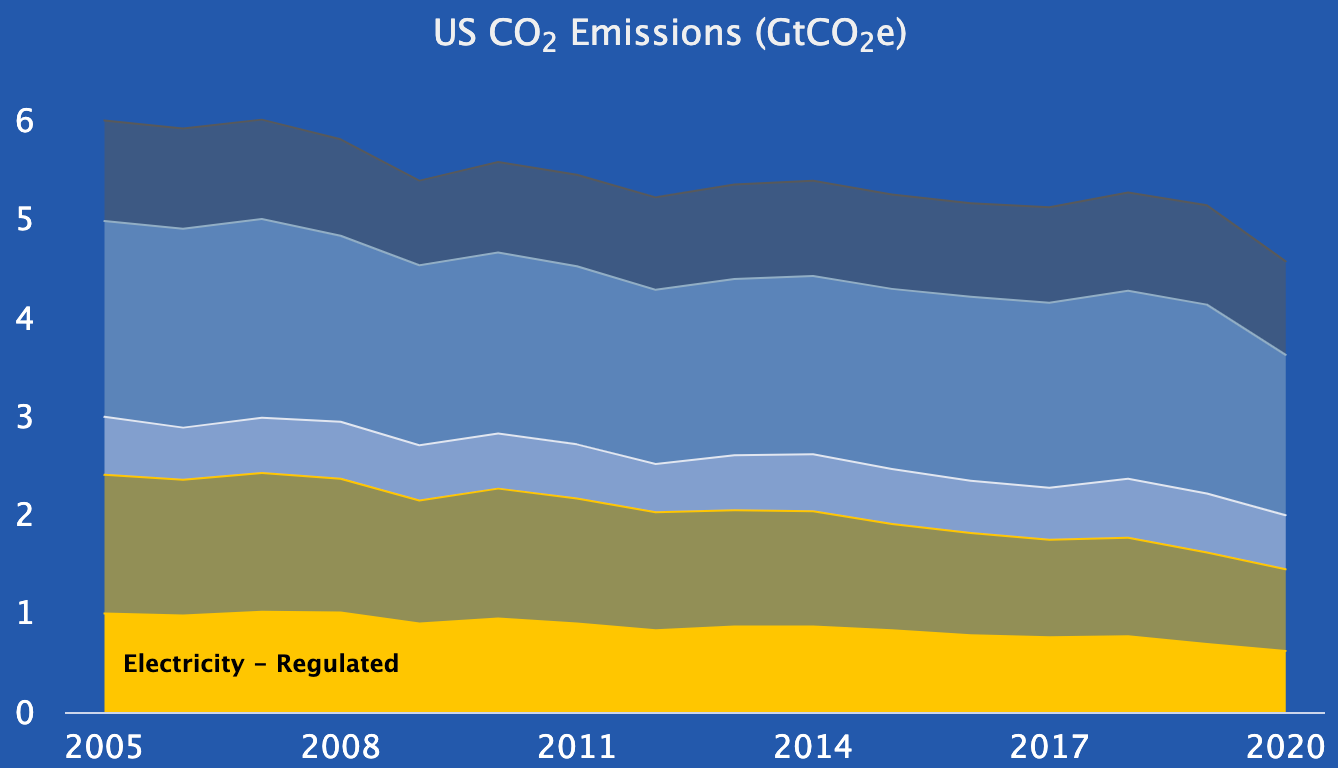 However, the work of the IPCC has made clear that the next ten years are the decisive decade, and an even faster decarbonization of these utilities is needed.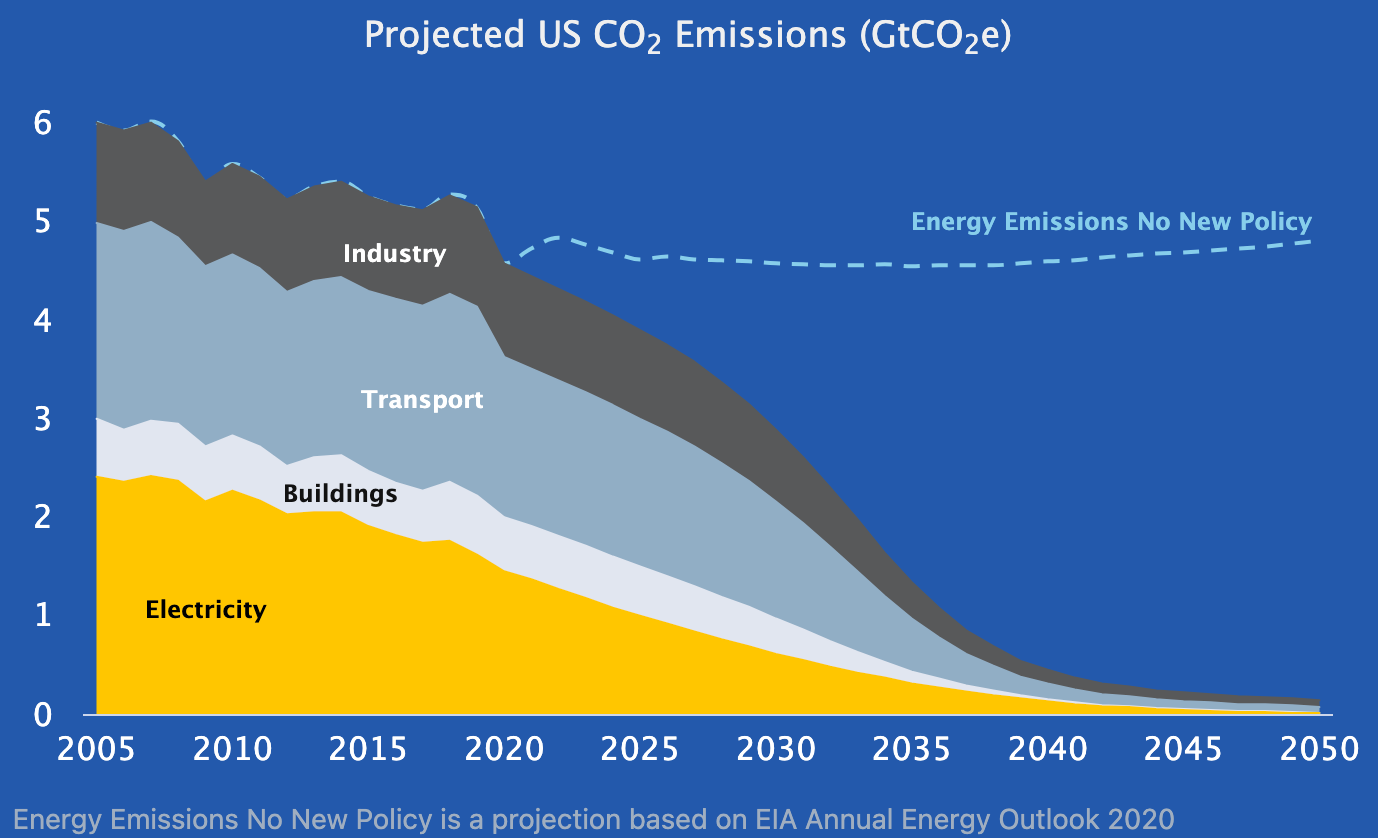 Utilities must meet growing demand from electrification of end uses while simultaneously decarbonizing generation.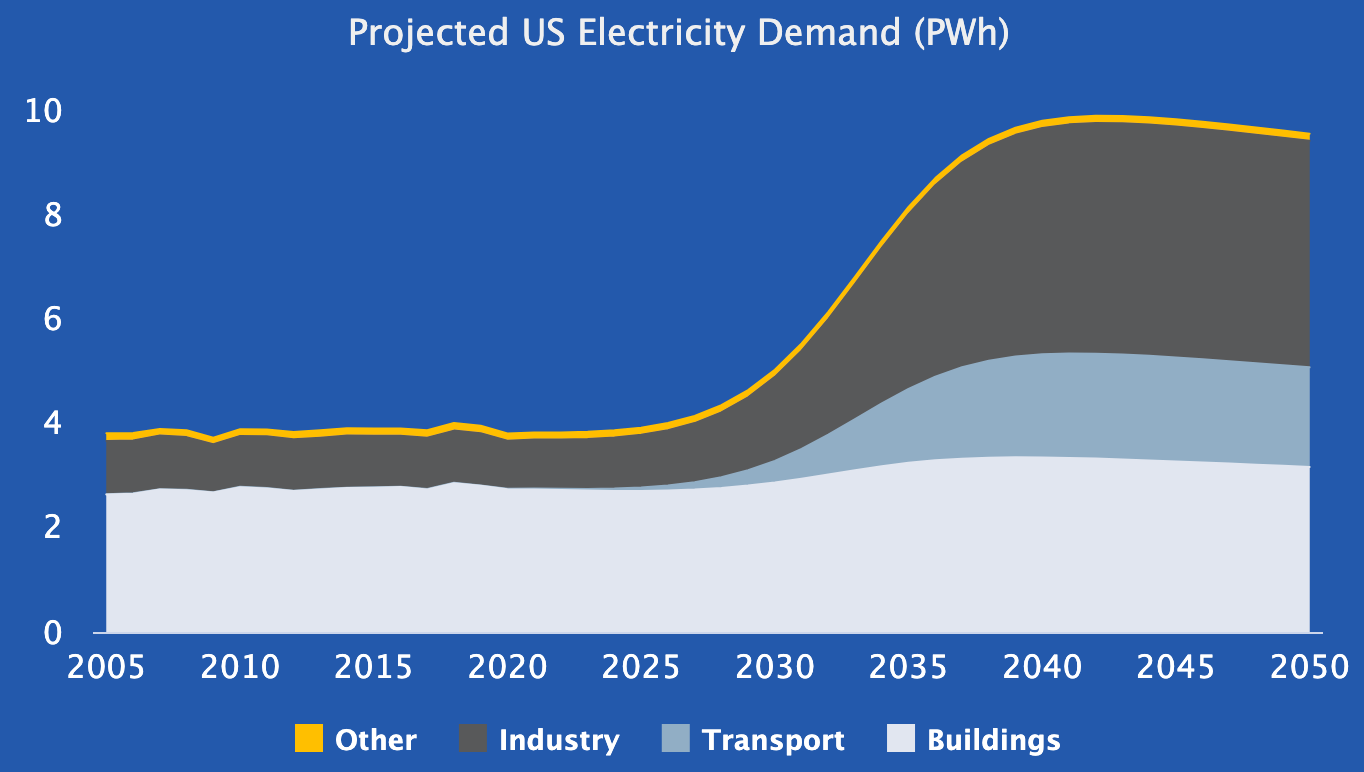 Doing both will require a massive transition from fossil fuel-powered generation to renewable energy.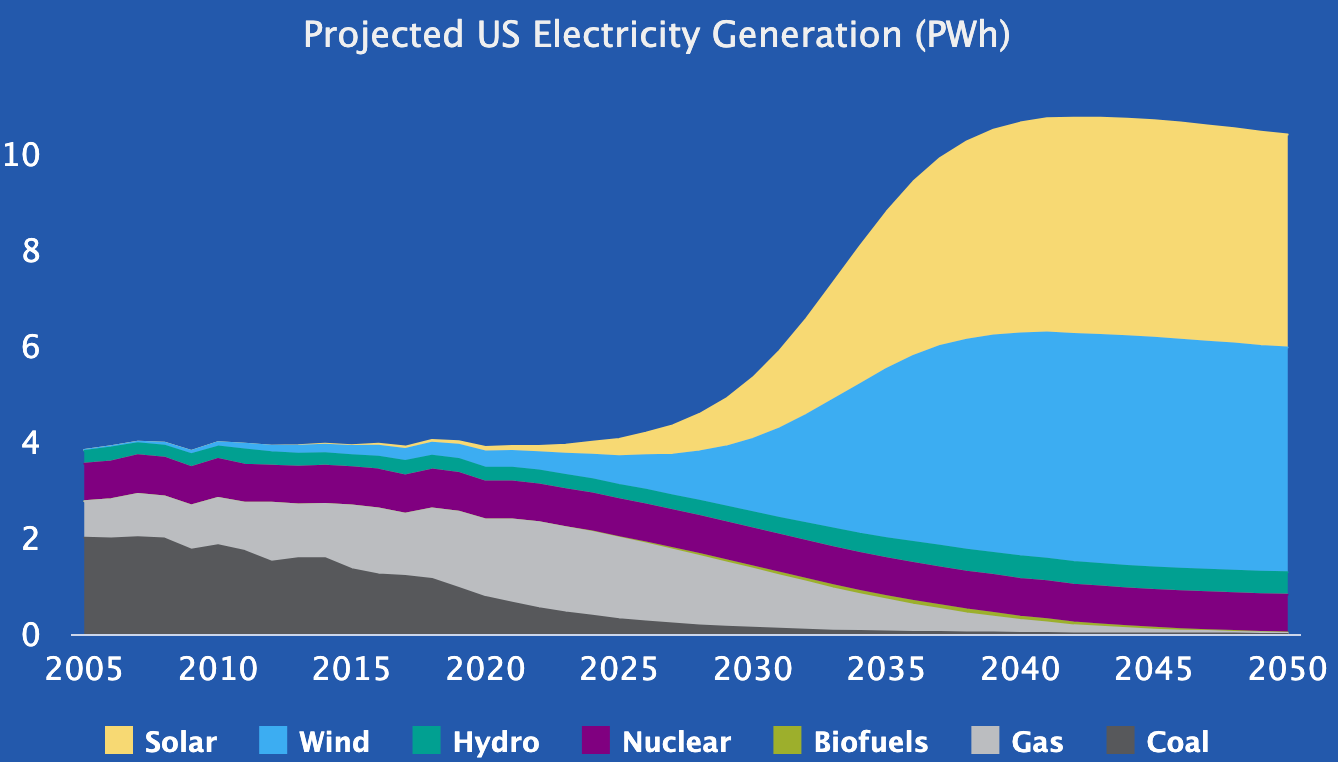 While tracking outcomes—emissions as well as plant additions and retirements—is essential, it is insufficient for assessing whether utilities are on track to stay within their carbon budgets.
This requires diving under the surface to identify the less visible forces that drive future emissions outcomes, such as:
Investments
Customers & Communities
Federal Policies
State Policies & Regulations
Operations & Planning
Key Insights on the Utility Transition
Many US utilities have made emissions commitments but few of these commitments are aligned with a 1.5°C trajectory.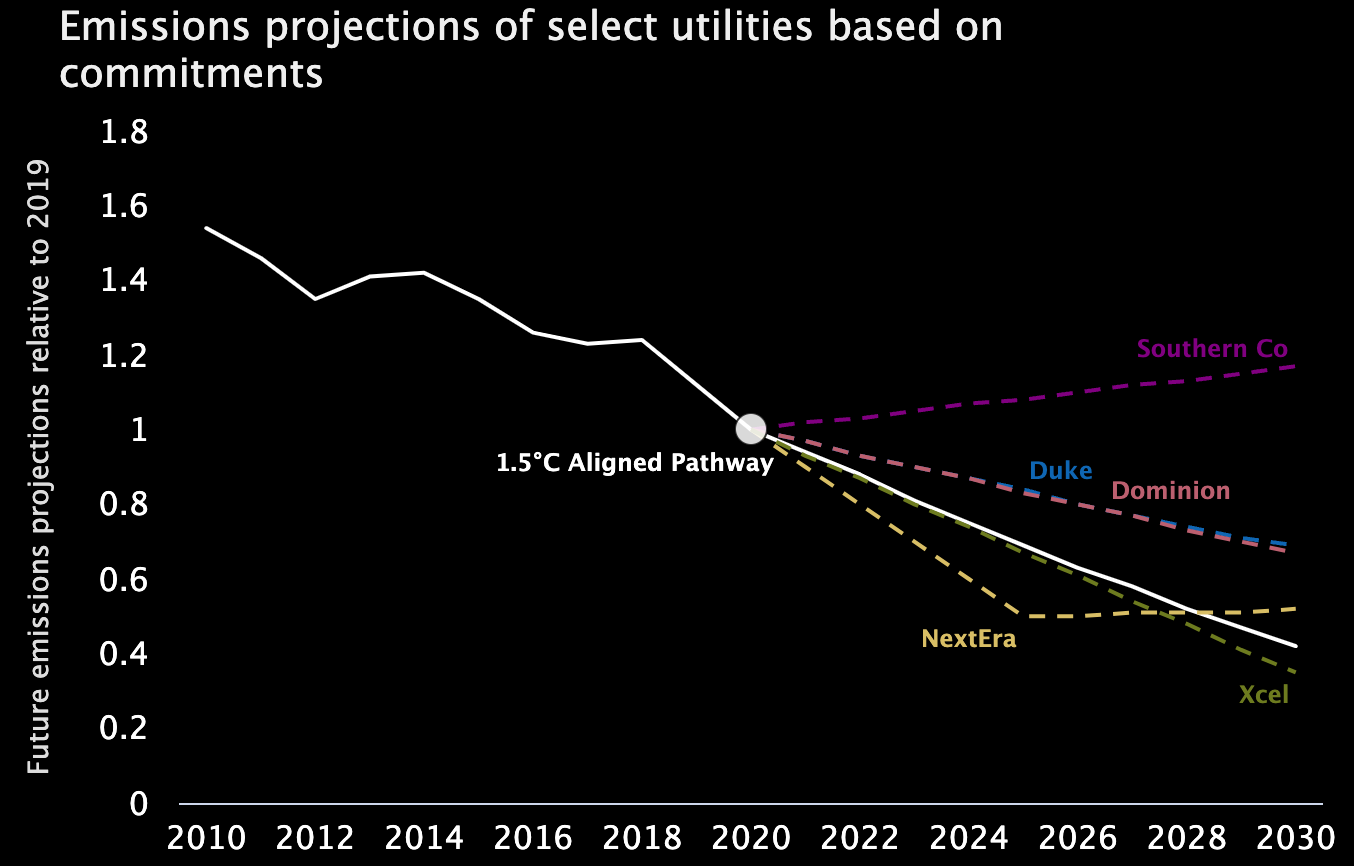 Regulated utilities have made progress over the past 16 years—retiring about 23 GW of coal while building about 23 GW of renewable assets.
But they've also nearly doubled their gas fleets to 179 GW over the same time period.
Regulated utilities have halved their coal generation from 2005 to 2020 as many coal plants were retired and those that remained were used less often—but their gas generation more than tripled over that time frame.
As a result, regulated utility emissions fell ~40%, with the ~55% reduction in coal-related emissions offset somewhat by a ~200% increase in gas emissions.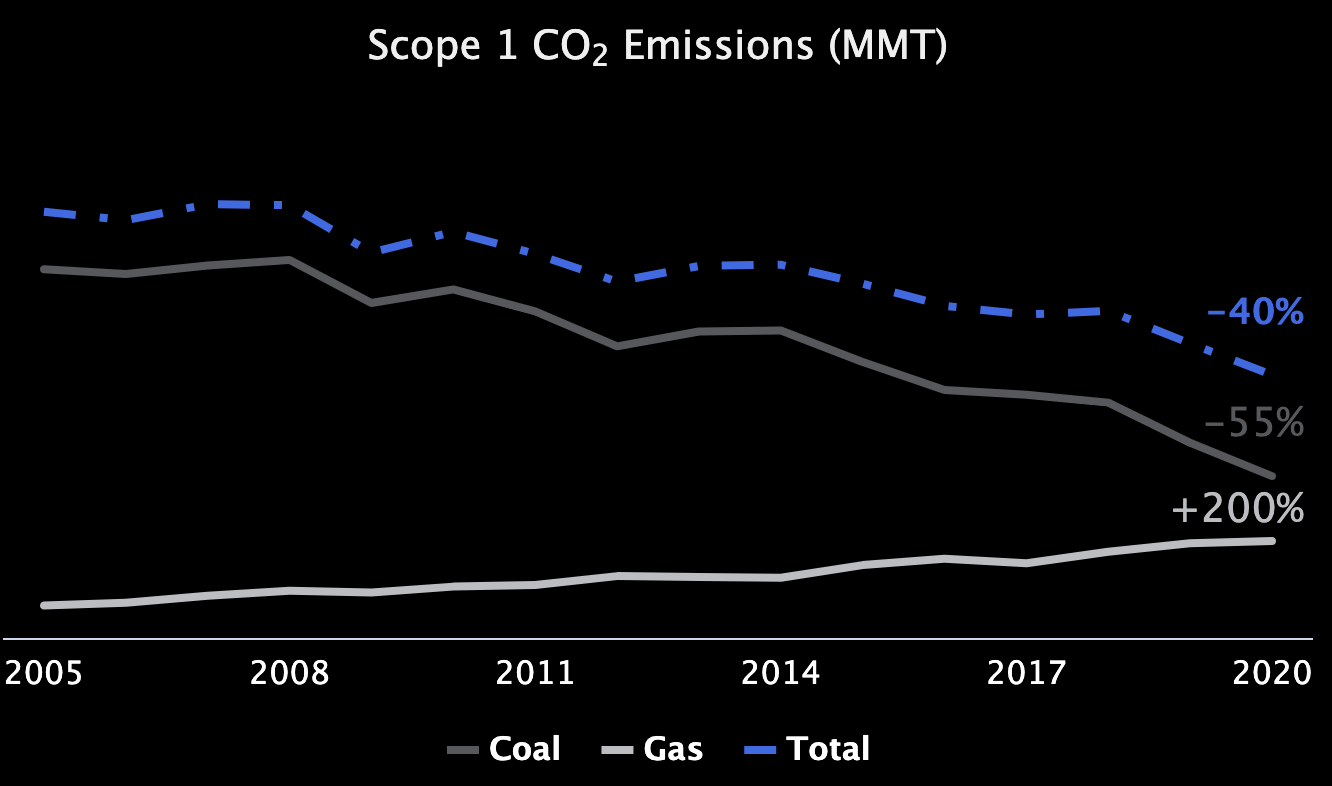 However, utility investment trends tell a different story. Fossil assets on utility books are now at an all-time high.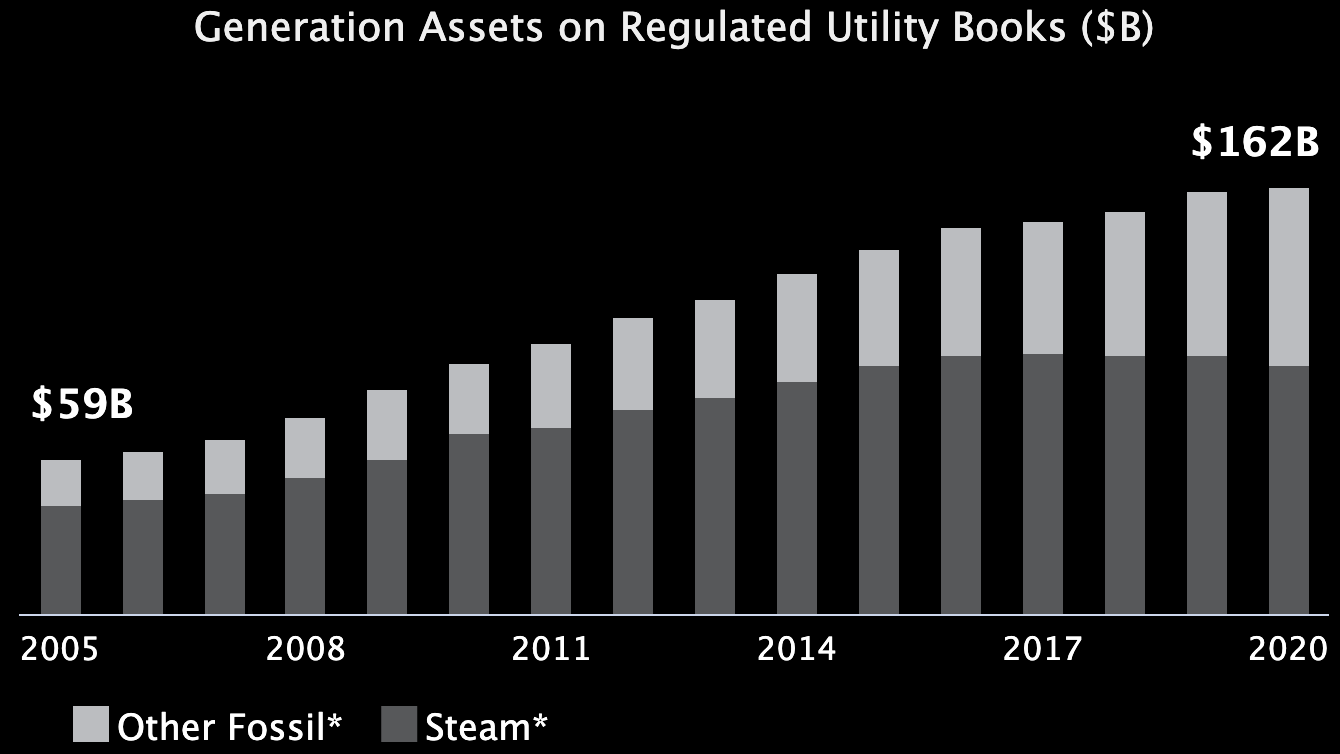 Cumulative investment net of Depreciation (i.e., net book value) by regulated utilities in fossil plants more than doubled from ~$59 billion in 2005 to ~$162 billion in 2020.
As these investments were largely made with the blessing of regulators, customers are likely "locked in" to paying for the utility's recovery of these costs in rates for the foreseeable future.
This is happening even as 79% of existing US coal (with tax incentives) is no longer cost-competitive with renewables and storage, and 90% of new US gas is not cost competitive with an equivalent clean energy portfolio.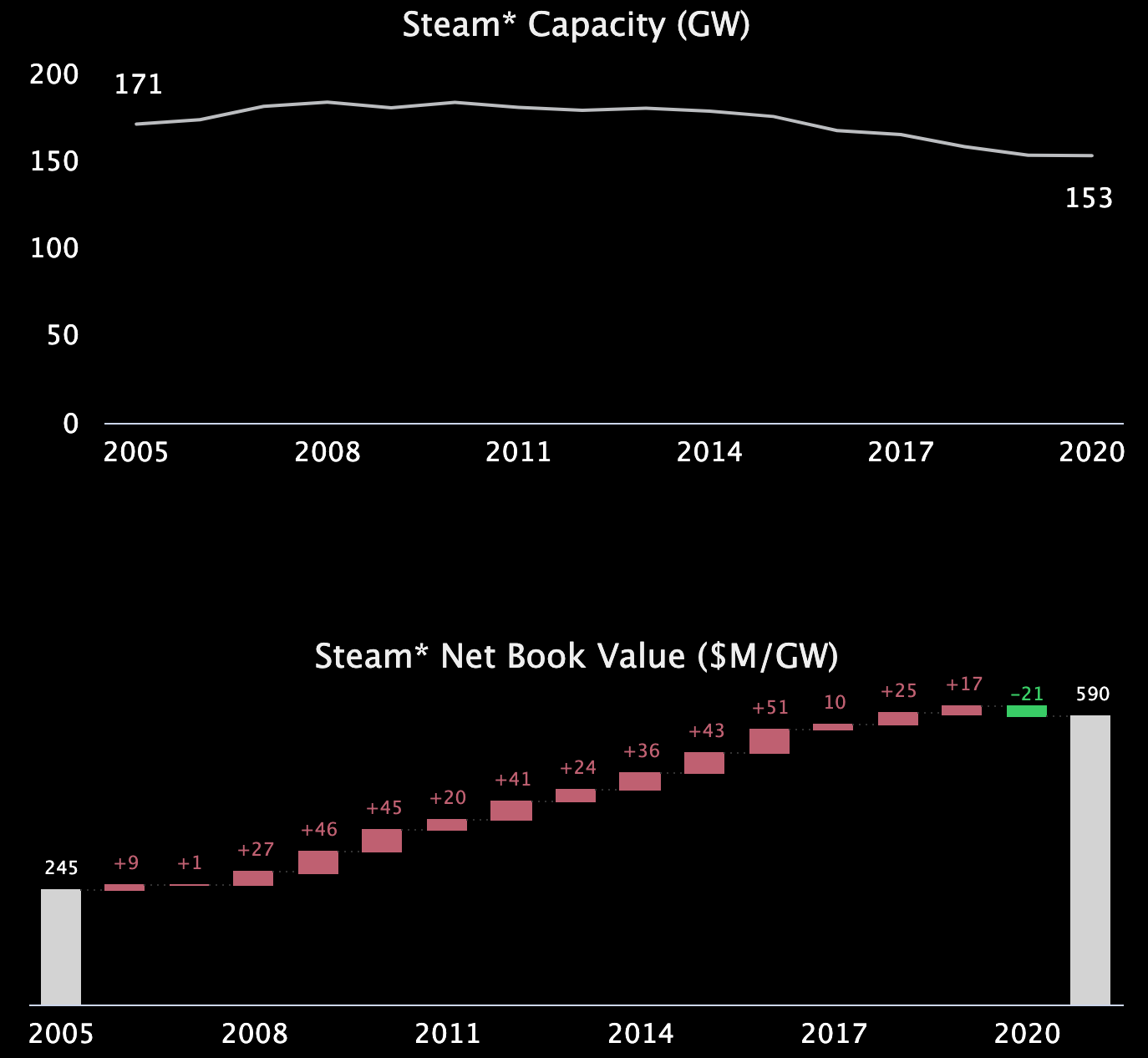 Utilities "doubled down" on their remaining coal plants—upgrading them to reduce pollution but in doing so more than doubling a typical coal plant's* net book value—all with approval from their regulators, "locking in" customers to paying off coal in future rates.
Historical regulatory precedent suggests that customers will bear the bulk of the responsibility for paying off these investments in coal pollution control equipment, regardless of the economic competitiveness of the coal plants.
The energy burden of customers of utilities with the consistently largest amount of steam assets is higher than the average energy burden for all regulated utilities. This disparity speaks to the opportunity for relieving financial stress for customers by transitioning off capital-intensive steam assets.
While a doubling down on coal has increased customer costs, the shuttering of plants has also significantly impacted the surrounding communities. Approximately 14,000 jobs were lost at coal plants from 2005 to 2020, a ~45% reduction in total plant employment.
All this has meant that customers are stuck paying more for less energy from capital-intensive coal plants that are employing fewer people—a lose-lose for regulated utility customers and communities that is likely to worsen with a transition to clean energy.
In theory, recently extended federal tax incentives for clean energy could help mitigate these transition costs. In practice, regulated utilities* can only use those incentives to help affordably transition one or two fossil plants per year to clean energy across the country—far below what is needed for climate alignment.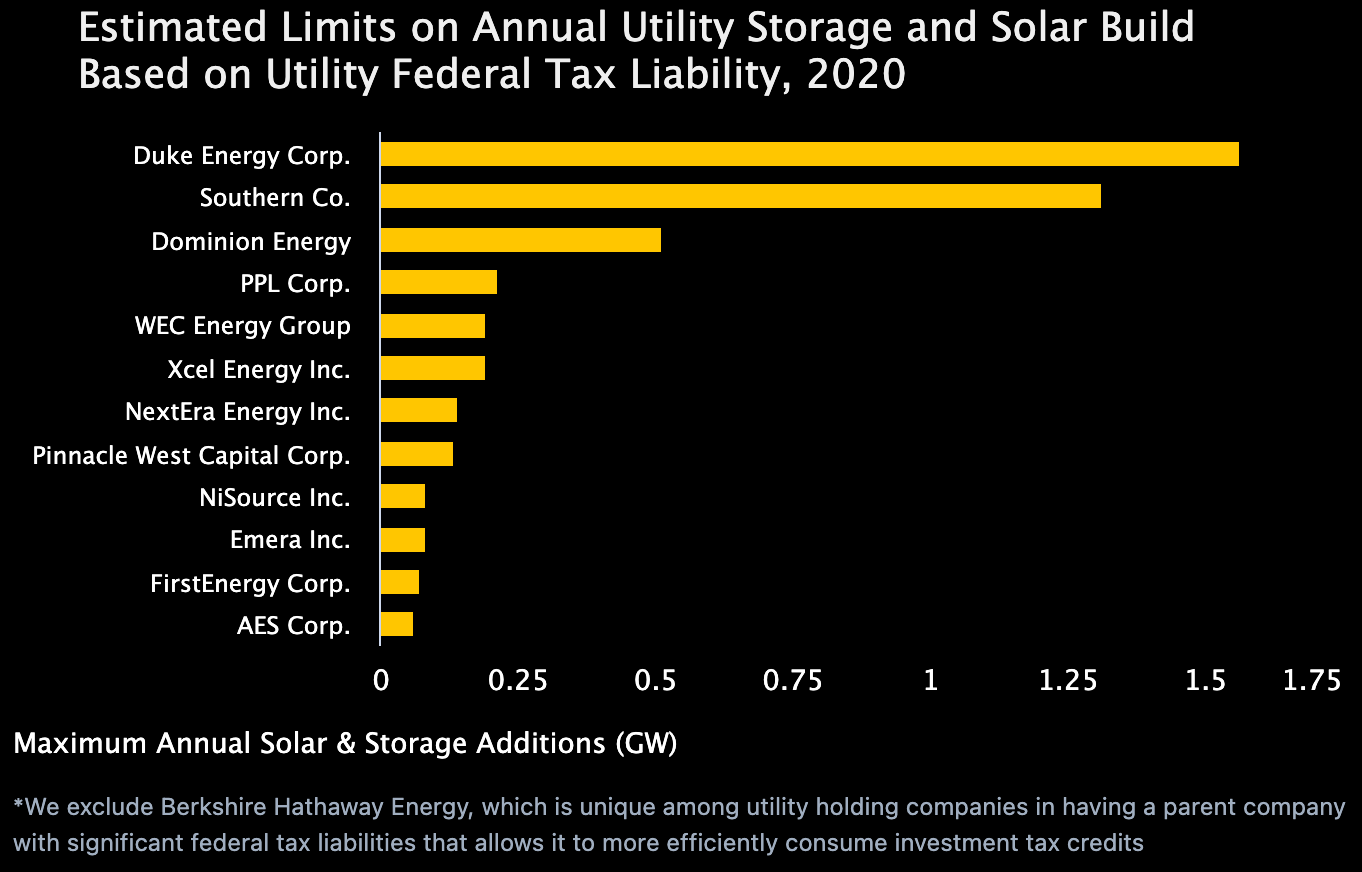 Utilities in aggregate have tax liabilities that would allow them to fully use federal tax incentives to build less than 5 GW of new solar and storage per year.
These restrictions are a result of tax policies over the past two decades that have significantly reduced utility federal tax liabilities, as well as limitations on how regulated utilities can use certain federal tax incentives.
The expanded clean energy tax credits in the Biden administration's Build Back Better plan would resolve this problem by allowing direct pay, a mechanism that will help utilities deploy clean energy technologies and significantly reduce the carbon they emit without sacrificing reliability of the electricity they deliver.
There are also innovative policy and regulatory options at the state level—like securitization, market indexing, and performance-based regulation—that can mitigate many of these challenges but have yet to be deployed in many of the states that could most benefit from them.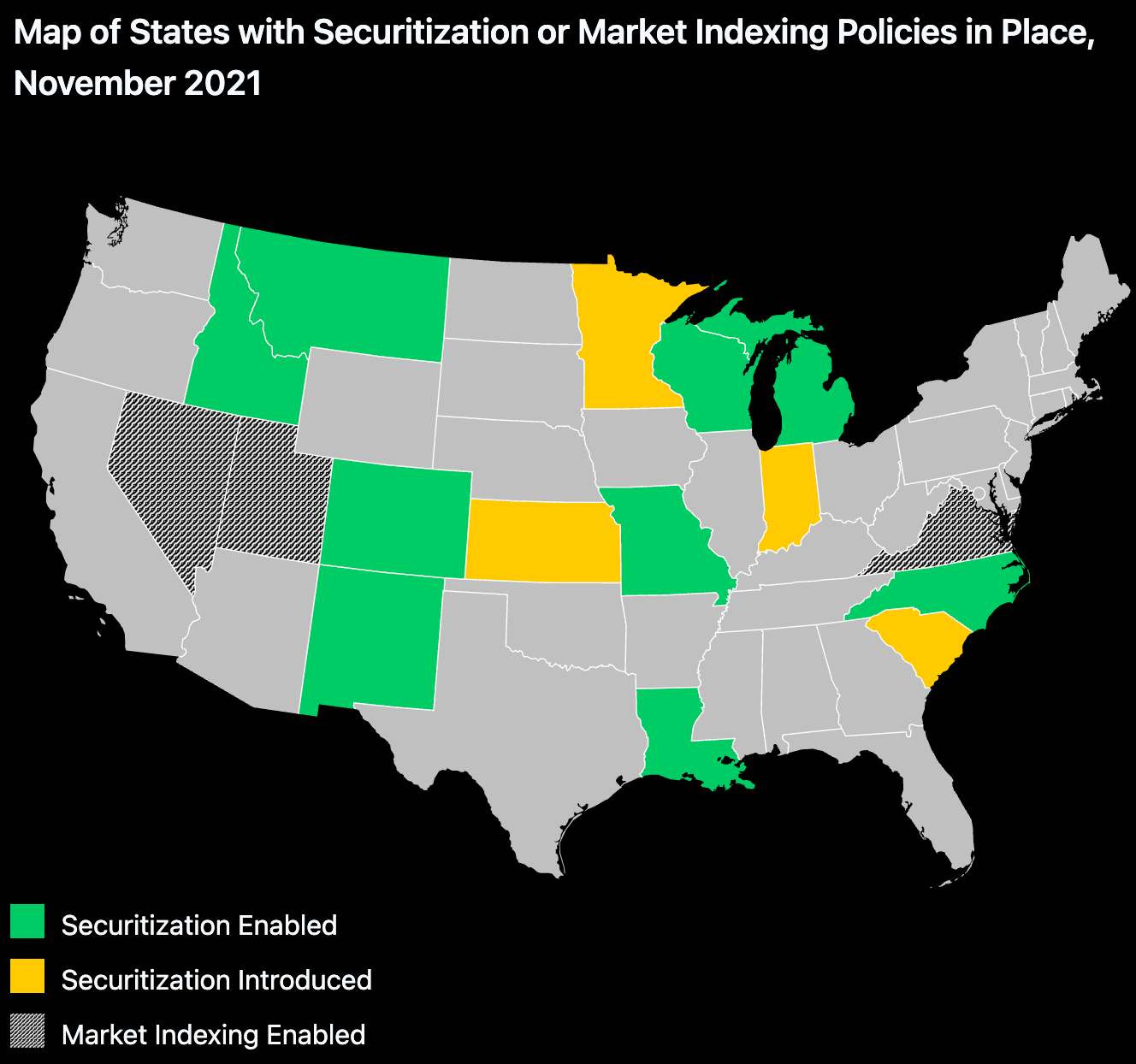 In part due to these underlying challenges, the resource plans submitted to regulators by major utilities are not currently aligned with a 1.5°C trajectory.
Significant progress, however, can be made by engagement with twenty utility holding companies. In 2020, these represented about 90% of the regulated utility sector's sales and were responsible for the same proportion of its emissions.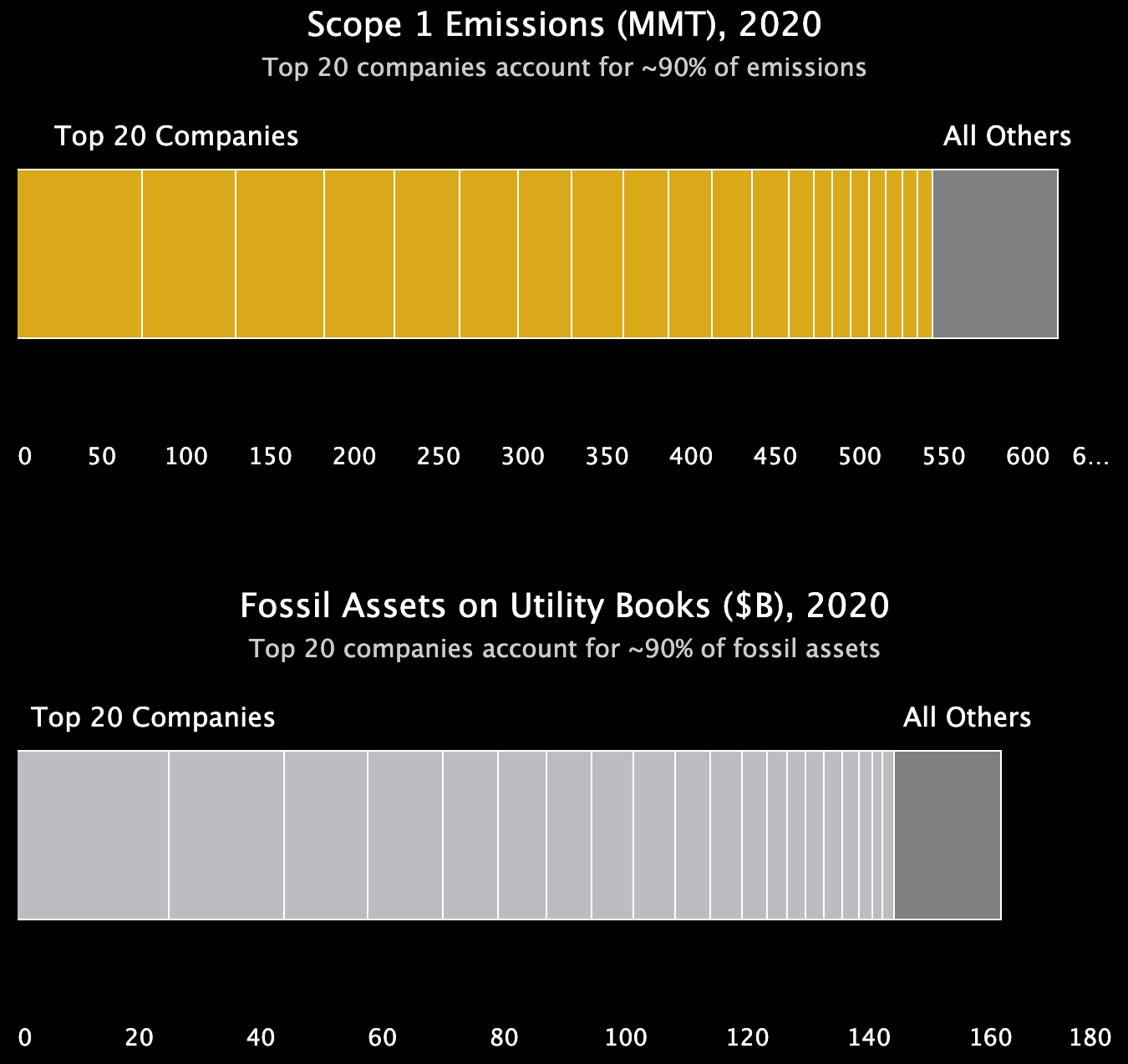 Disclaimer of Warranty, Accuracy and Use of Data. Although the data and information found here is believed to be reliable, some of which is produced and sourced from third-party sources, no warranty express or implied is made regarding the accuracy, adequacy, completeness, legality, reliability, and utility of the data and information found here. This disclaimer applies to both isolated and aggregated uses of the data and information, RMI provides this data and information on an "AS IS" basis. All warranties of any kind, express or implied, including but not limited to the implied warranties of merchantability, fitness for a particular purpose, freedom from contamination by computer viruses, and non infringement of intellectual, or other proprietary rights are disclaimed. Changes to the data and information may be made periodically and data can become out of date. Users should be aware of these periodic changes and it is recommended that careful attention be paid to any data and information found here. If any errors or omissions are identified, please report them to RMI.